Best of Greece with 3-Day Aegean Cruise Superior
Booking Dates
12/29/2022 through 03/28/2023
Travel Dates
12/29/2022 through 03/31/2023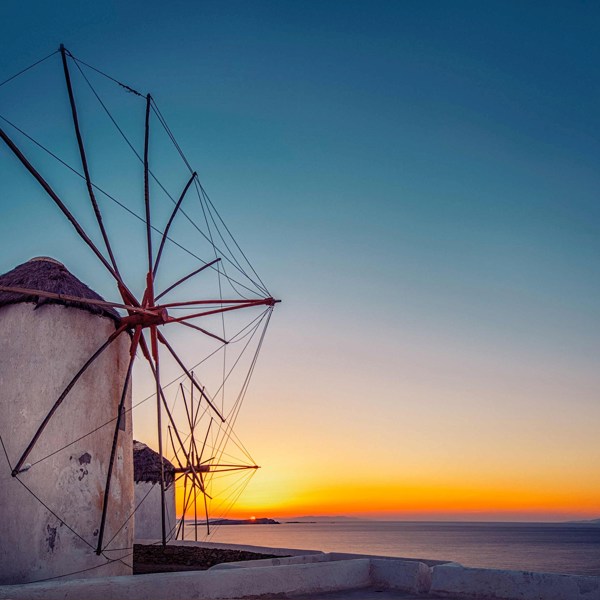 Best Of Greece With 3-Day Aegean Cruise Superior
Consider extending your holiday beyond The Best of Greece. Set your sights on the Cyclades and cruise to the idyllic Greek Islands of Mykonos and Santorini.


Dining Summary
1 Welcome Reception (WR)
11 Breakfast (B)
5 Dinner (D)
1 Be My Guest (BMG)
1 Farewell Dinner (FD)
3 Lunch (L)
Be My Guest
Olympia: Say opa! to an Olympic Be My Guest experience with the Karambellas family on their olive and wine farm, followed by a traditional dinner and dancing.
Dive Into Culture
Athens: Visit the Acropolis Museum containing remarkable antiquities giving visitors an insight into the lives of Athenians centuries ago.
Iconic Experience
Athens: Delve into Athens with a Local Specialist. See the iconic highlights of this ancient city, from the Acropolis to the site of the first modern Olympics.
Corinth: Cross the amazing rock-cut channel dividing the Peloponnese from mainland Greece. Join a Local Specialist and gain insight into Corinth's eventful past.
Archaeological site of Mycenae: Walk through the Lion Gate past the royal beehive-tombs where Schliemann uncovered golden treasure, while hearing tales of Agamemnon from your Local Specialist.
Archaeological Site of Olympia: Join a Local Specialist to view the stadium of Olympia which hosted the ancient Olympic Games and Heraia, the women's games in honour of Hera. See the Temple of Zeus, athlete's gymnasium and the stone marker where the sprint began.
Delphi: With your Local Specialist, walk to The Sacred Way once lined with offertory temples. See the reconstructed Athenian Treasury and pass the superb Polygonal Wall to reach the Temple of Apollo, where people once sought divine wisdom from the mysterious Oracle.
Thermopylae: See the Leonidas Monument dedicated to the brave warrior and his 300 Spartans.
Meteora: With a Local Specialist, visit two of the remarkable centuries-old monasteries of Meteora, teetering on towers of rock and arguably the most spectacular place to visit in Greece.
Ephesus: Discover one of the world's finest ancient sites. Led by your Local Specialist, walk the Arcadian Way, see the Library of Celsus and Amphitheatre and visit the House of the Virgin Mary.
Mykonos: View the Windmills of Kato Mili and wander the beautiful blue and white streets of Chora.
Heraklion: While in Crete, enjoy your guided visit to the Palace of Minos at Knossos.
Must-see Highlights
: Explore Athens, Meteora, Delphi, Olympia, Epidaurus, Mycenae, Corinth, ancient Ephesus and Heraklion with a Local Specialist
: Visit the Acropolis and Museum in Athens, the ancient ruins in Corinth, the ancient theatre at Epidaurus, the Olympic Stadium in Olympia, the home of the Oracle at Delphi, and the incredible rock monasteries in Meteora, Mykonos, ancient Ephesus, Patmos, Crete and Santorini
: View the Parthenon, Agora, Royal Palace and Temple of Zeus in Athens, the Sanctuary of Asclepius at Epidaurus and the battle site at Thermopylae
: See the Corinth Canal, the Lion Gate and Agamemnon's Palace at Mycenae
Whats Included
: An expert Travel Director and professional Driver
: Cherry-picked hotels, all tried and trusted
: All porterage and restaurant gratuities
: All hotel tips, charges and local taxes
: Breakfast daily and up to half of your evening meals
: Must-see sightseeing and surprise extras
: Audio headsets for flexible sightseeing
: Luxury air-conditioned coach with Wi-Fi in most countries or alternative transportation (such as rail journeys)
: Optional Experiences and free time

Whats Included
An expert Travel Director and professional Driver
Cherry-picked hotels, all tried and trusted
All porterage and restaurant gratuities
All hotel tips, charges and local taxes
Breakfast daily and up to half of your evening meals
Must-see sightseeing and surprise extras
Audio headsets for flexible sightseeing
Luxury air-conditioned coach with Wi-Fi in most countries or alternative transportation (such as rail journeys)
Optional Experiences and free time
| Day | Description | View All |
| --- | --- | --- |
| Day 1 | Welcome to Athens | Details |
| Day 2 | Explore Amazing Athens Dive Into Culture | Details |
| Day 3 | Journey to Corinth, Mycenae and Nafplion | Details |
| Day 4 | Continue to Ancient Olympia Connect with Locals | Details |
| Day 5 | Onwards to Patras and Delphi | Details |
| Day 6 | Off to Thermopylae and Kalambaka | Details |
| Day 7 | Admire Meteora and Return to Athens | Details |
| Day 8 | Embark and Cruise to Stunning Mykonos | Details |
| Day 9 | Continue to Ancient Ephesus and Patmos | Details |
| Day 10 | Cruise to Crete and on to Santorini | Details |
| Day 11 | Disembark in Athens | Details |
| Day 12 | Journey Home | Details |